Wheel and Tire Fitment for 64-70 Mustangs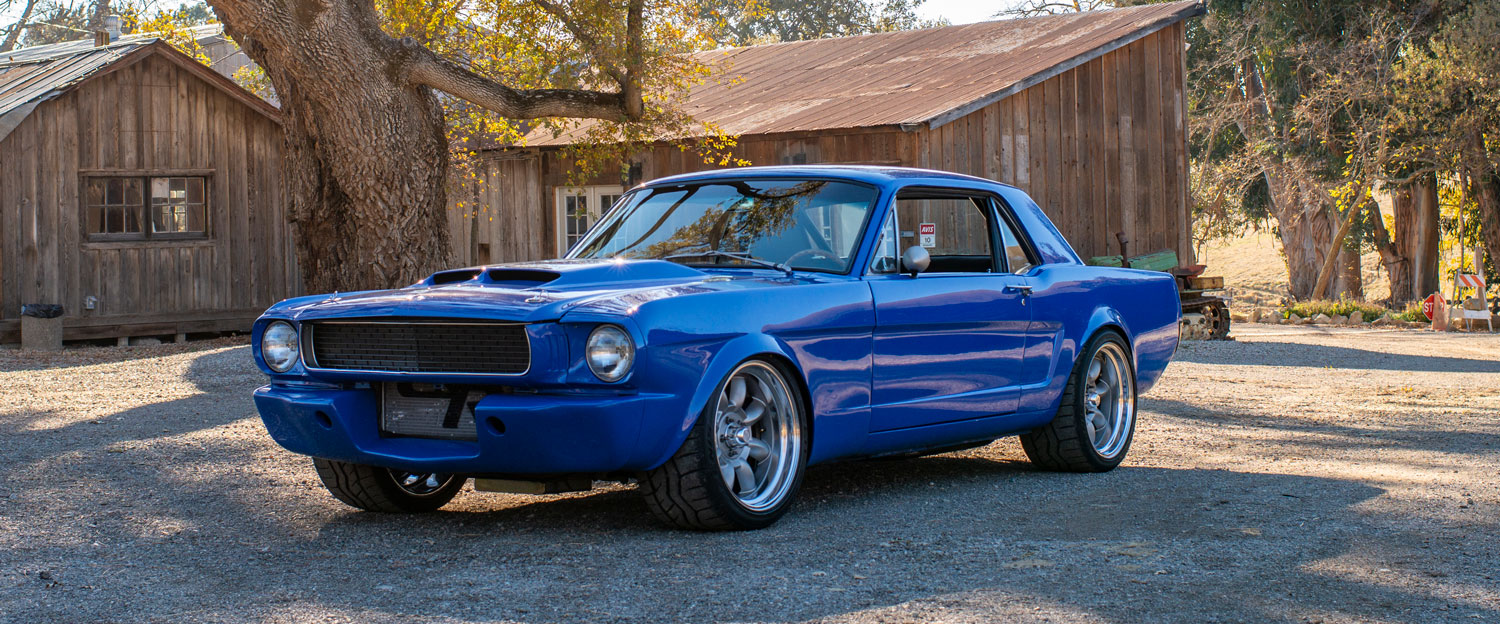 Getting the stance right on your classic Mustang requires a couple basic items, namely a tape measure and some patience. After 50 years (and even from the factory) the available space for wheels and tires varies from car to car. The wheel and tire combo that worked on your buddies ride may not work on yours. With that in mind, we've put together a list of wheel/tire fitments that we've found to work. We break these into two categories, "Easy" and "Shoehorn", both of which should be self explanatory.
Keep in mind that the only way to make sure a wheel and tire will fit it by measuring your setup. We HIGHLY recommend you do this before putting in an order. You can't return most wheels and tires, so taking the time for this extra step could easily save you a few thousand down the road. Check out this video for instruction on how to go about measuring your classic Mustang for wheels and tires.
Yes, a 315 tire in the rear is possible, especially for the later cars. The earlier cars will require mini tubs and a rolled quarter lip. You'll also need to address suspension with either a MOD 2 rear setup or a set of our narrow leaf springs. Though a 315 in the front is possible, we generally don't recommend it.
Our shoehorn fitment is not a bolt on and go fitment.  Often this fitment requires a front fender rod to push the front out a little, rolled fender lips, and working with the wheels to make them fit.  This takes some effort and will rub if it is not worked on. This setup will require longer wheel studs and most likely spacers. We like to go a little over on the backspacing and use spacers to adjust the final fitment. Spacers are cheap and easy to swap, custom wheels are not. Using spacers helps us get optimal fitment in the wheel well.
Use these measurements as a suggestion and make sure to measure YOUR car. If you plan on going down the route of the shoehorn fitment do your due diligence. Know what you're taking on and plan to work with your inner fender and lips. We cannot take responsibility for fitment issues as we do not have your car in front of us to measure and determine the exact dimensions.
1964.5-1966 Wheel & Tire Fitment
Easy Fitment
Front: 17″/18″x8″ Backspacing: 4.75″
Rear: 17″/18″x8″ Backspacing: 4.75″
Tire Size: 225 width on all 4 corners
Shoehorn Fitment
Front: 18″x8″ Backspacing: 5″ *Needs longer wheel stud + 1/8" to ¼" wheel spacer*
Front Tire: 235 width
Rear: 18″x9″ Backspacing: 5.25″
Rear Tire: 245/255 width
1967-70 Wheel & Tire Fitment
Easy Fitment
Front: 17″/18″x8″ Backspacing: 4.75″
Front Tire: 225 width
Rear: 17″/18″x9.5″ Backspacing: 5.75″
Rear Tire: 245-265 width
Shoehorn Fitment
Front: 18″x9″ Backspacing: 5.25″
Front Tire: 245 width
Rear: 18″x10″ Backspacing: 6.25″
Rear Tire: 315 width
To fit a 315 in the rear the inner wheel well must be beat inward on the front and back corner
How to Measure for Your Mustang Wheels & Tires