The Hidden Cost of Building a Better Product

A few years ago, Roy and his boys Rocky and Max decided to build a 65 Mustang. That's a big challenge for most of us, but they had an additional complication: they live in Maui. Finding worthwhile local shops to work on a classic car is a challenge for most of us in the continental U.S., but in Hawaii? Like they say in New York, fuggetaboutit.
Undeterred, they pressed on, putting together a list of preferred parts and vendors. We were happy to be included on the list as the suspension supplier. Once their order came in, we set to work building the parts that would make their way under this father/sons' project.
Unbeknownst to any of us however, was that our little shop was about to get many orders. Many more than we'd seen before. As a business owner this was great, even necessary, but it brought with it many new challenges. Fulfillment, customer support, shipping times, and so on slowed down as we put 110% of our efforts into getting product out the door for customers.
This made Roy's project more difficult. Parts took a while to arrive, and when they did, the instructions needed more explaining. Calls went unreturned. Naturally Roy had a few choice words for us, and we deserved them. But with a limited crew, our efforts went into crafting products, even if it meant a delay in getting on the phone. This balancing act ultimately became overwhelming for our team. As my mother says, "Be careful what you ask for, you just might get it." Folks like Roy and his boys felt as though they were in a way dropped, and rightfully so.
But Roy and his boys kept chugging along. They struggled through many of the same battles we all do when building a car. Will this part work with that part? How do you plumb brake lines? How is it possible that these brand new ball joints suck right out of the box?! These are the trials and tribulations we all face, but that's how you earn your stripes as a hot rod builder.
Then, this last Christmas, our family had the opportunity to head out to Hawaii. I decide I want to meet Roy and his boys face-to-face and see the progress they'd made and if there was any way I could help them. So we took the drive to finally meet Roy. A big guy and proud too. Proud of his home and most of all his boys. They had built the car under a temporary makeshift tent on the side of his house. The whole layout was pretty awesome. He lived on the side of the volcano with all sorts of dream roads winding up and down the mountain. California has some cool roads, but a volcano drive was a whole new experience. Outside the Mustang was parked, waiting for us to take it out. He gave us a quick tour of his beautiful home and swiftly told the family we were going for a drive.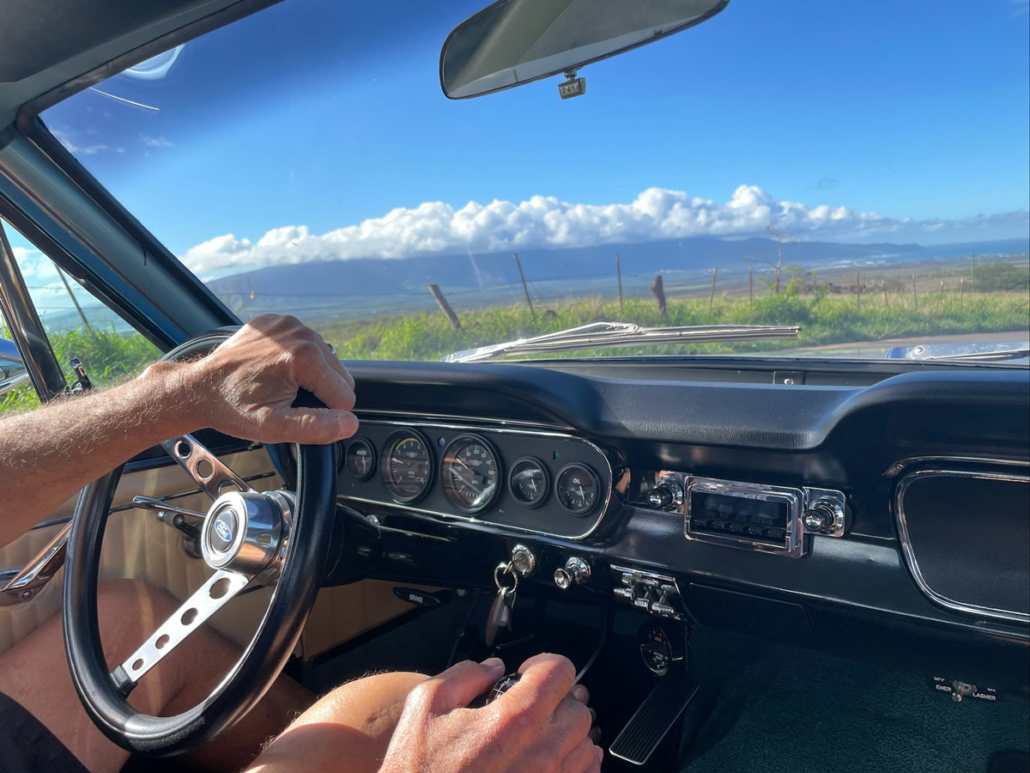 He jumped bare in barefoot, true island style. Started it up and idled down the weaving neighborhood roads. As we spoke I was paying attention to his driving. He was relaxed. The car was humming along. No jumping, no jerking. Thin two-lane roads over rises and back around blind curves. He told me they built the car for this road, the one he had driven for the last 30 years to work. He also told me he was frustrated at times with our phone skills, but his boys calmed him down and they kept wrenching.
We got down to our turn around point about 10-15 minutes down the road. He asked if I wanted to try it out on the way back up the hill. This will never get old. In this position you get to experience someone's hard work and effort: their pride and effort is wrapped up in this machine. So being able to drive these cars is always more than a drive for me.
The car was tight. No sloppy workmanship here. The steering was simple and worked well. The brakes were on point. The motor was crisp and clean. It spun smooth like sewing machine. They got the new TKX transmission which shifted clean. Coming into turns blipping the throttle on down shifts was simple and seamless. The car carved the corners effortlessly letting you know that there was way more available in the way of grip. I asked him how many miles he had driven it. The response was just a couple of test runs up and down the hill. Wow… to build a complete car in a tent and it already drives so clean I thought.
During the drive he told me that interfacing the power steering with the accessory drive package was a real pain. Matching our parts with others is always a challenge. This introduces unknown variables we all have to work through. As it turned out the bolt pattern for our pump ended up working with his kit. For someone who has never done this kind of thing before, it can be a real challenge finding someone to help. You end up learning by doing, which can be costly and time consuming. We totally understand because we had to learn them too.
I believe the greatest way we can help our customers is by offering a superior product. This has been the core of our business since we started. Design and build awesome stuff that delivers an exceptional long term user experience and people will want it. But as a growing business we're learning the importance of everything that goes with building cool stuff. The customer experience is not only the satisfaction of the parts once installed, but everything before that as well. How long did it take to get there? Were the instructions detailed and helpful? Can we get back to customers in a timely basis with an answer to their questions?
These are all things we're working on improving.
There are some questions we'll never be able to answer well. I don't know if our power steering is going to work with that header kit you bought from eBay. I can't say why you're having a hard time bleeding your brakes. What's the best engine for an early Mustang? …um, a fast one?
Look, we're not trying to make excuses. We want to create an awesome experience for our customers and we're working on many improvements in this area. But we're not Amazon. Getting to build and design your own stuff instead of ordering it from a factory in China means we get to work firsthand on making it better. But it also means we're the ones responsible for the entire process from start to finish. The buck stops with us. Our primary focus will always be delivering an exceptional product that outperforms for years to come.
All the while we were still driving. The car rode great around the tight volcanic roads. It hooked up and turned in with confidence. This type of experience took years for us to develop. Our goal was to create a surefooted approach to a turn that lets customers roll through with a smile instead of terror. The smile on his face was worth the trip.
Seeing Roy enjoy his family's work is what it is all about for us. It was awesome seeing the result of their hard work. Getting to this point may not have been easy, but the finished product spoke for itself. Reducing the pain of learning will be an ongoing job for us for sure. One by one we will check off the to do list. But the short list for us is the finished products' performance and the final smiles of those who enjoy them.
Thank you so much to Roy, Max and Rocky for sticking it out with us.