Optima 2021: Constant Improvement for New Blue

Preparing a car for Optima's Search for the Ultimate Street Car is not an easy task. As the series has grown and more people build awesome cars, the times keep dropping and sweat equity never stops. When it comes to regular racing you have one thing you need to do well: with Optima there are multiple disciplines in one weekend. Getting into the top pack is breaking into a lifestyle. It requires constantly improving your weak points and a dedication to evolving the car. Not to mention actually having to drive the thing well!
This winter we wanted to make a solid effort at improving our 2017 Mustang. The obvious first task was to shore up loose ends. The car has sat aside for several seasons. Want to know the best way to ruin a car? Let it sit.
The to-do list was hefty for sure. Freshen up shocks, differential, brakes, and hubs were just the basics to ensure the car made it through the weekend. But what was the plan to go faster? The first one was simple. Find $10-20k and build a nasty motor. Uhhh… ok maybe we aren't there just yet.
What else can we do?
We turned our thoughts to avoid being slowed down. If we can't go super fast, maybe we shouldn't go super slow in the center of the turns. We had noticed the back of the car was a bit hard to feel. Perhaps a redesign of the rear shock and spring package could get our back end more predictable without bouncing off bumps as much. So we turned to what we knew and liked: a rear cantilever system. This proved to be an effective solution in the past for Ol' Blue so perhaps we can adapt it to the S550 platform. At the very least the judges would appreciate the innovation… right?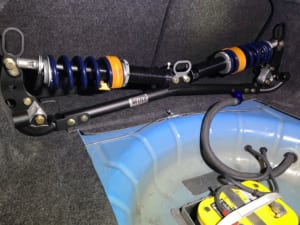 The rocker system took several months to sort out. We have had two different ratios and several hub bearing assemblies. Revalving new shocks to work with it was a task as well. While developing and assembling that system, we were also tending to a hurt diff in need of a burp tank. Thinking back to an old race car we developed, we remembered a little trick. Put the burp tank in the tubing! So the cross member became the burp tank. This as of to date feels much more compliant than ever before. We have been adding valving and spring rates as well as rocker ratio in the effort of progress. This was definitely a good start.
Next our list as the biggie, literally. We really wanted to try ground effects. The theory was simple: suck the car to the ground by controlling the air under the car. We started out with a cardboard model, then an aluminum one, and finally we built the real deal. It took months of work to come up with our plan to assemble and fix it to the car. When you're doing something new, it isn't easy to look it up on line.
This whole strategy was a total gamble. Either it was going to be freaking awesome and it wouldn't be allowed back, or it was it was going to be a huge piece of wall art after one weekend. This was going to be our attempt at a substantial improvement over our current set up. Honestly we had no idea what it would do.
Along with all this we still had all the basics like a brake job, and figuring out a valve cover breather set up (which we buried in the chromoly tubing of our shock tower brace.) We also had to reset up the trailer after sitting for almost a whole season. Lots to do and it better be good.
Once the weekend started it was evident everyone took the time off to improve. First was the autocross. But this autocross was half the road course. Our first laps were fast but eventually tires came in and power started to get put down. This wasn't in our plan. We needed the slow parking lot style to maximize our strengths and not let the big motors get a leg on us. We just had to hang on but this was telling for the next day. Our setup felt solid and the new Falken Rt660's were a huge help, but all the tuning could not make up for the repeated drag races with u-turns in between. Power would be king this weekend. We held on to 5th place out of 30. Not bad but much to improve on.
Next was the speed stop. Again we showed good promise at the beginning. But as things started to grip up in the second half of the day our little motor (as Scotty from Star Trek would say) "was giving it all it's got!" The group started to stretch out on us and we fell back again.
The road course was just a give-it-hell event and at this point don't give up. Just keep digging . Don't let them get you like this. Again we weren't far off in the beginning. Just a couple of tenths. Then they started to stretch it out again. It was clear that we had an advantage in the technical sections but the straights left us behind.
In short, it was a tough weekend. The competition just keeps getting better and better and it inspires us to continuously improve. In total we dropped over 4 seconds from our lap time compared to our last visit to Vegas, but we will need to do better if we want to keep winning. Stay tuned.